Instability risks in China grow as gold sniffs out support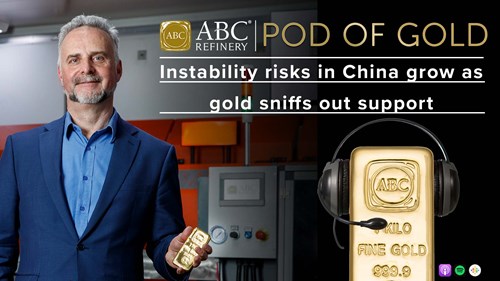 In this episode of The Pod of Gold,
Nick Frappell & Shae Russell discuss the muted moves in spot gold and how support for the yellow metal is inching higher. Nick takes a deeper look at the dollar cost of China's relentless pursuit of Covid zero, and what the rumblings in the Middle Kingdom's property sector may mean for the Australian dollar.
Click here to listen now.
Time Stamps:
1:00 – Fourth consecutive week of managed money easing positions in gold
2:00 – Gold touched and rejected US$1,890 on a weekly basis
6:16 – Silver is testing support, needs to hold above US$24.20 in the short term
8:35 – The economic and social risks of China's pursuit of Covid zero
14:02 – The parallels between the Chinese and Australian property sector
16:01 – Aussie dollar: short term bull, medium term bear
19:10 – Key takeaways
Previous Aussie dollar conversation: Gold and commodities soar as Russia-Ukraine conflict drives markets @ 20.36min