Crude's correlation to gold and why the bulls are ready to charge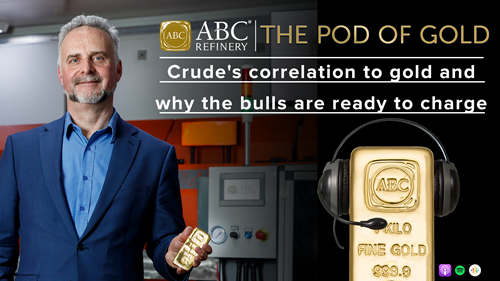 In this episode of The Pod of Gold,
Nick Frappell & Shae Russell discuss managed money's increased short position for gold and silver's recent bounce. Nick delves into Russia's recent monetary theatre, then takes a deep look at the bullish predictions for Brent, and crude's correlation to gold.
Click here to listen now.
Time Stamps:
0:44 — Managed money is on the defensive, yet technical support for gold is strong
7:16 — Nick's bullish call for silver played out, where to next?
10:18 — Russia, rubles, and gold
14:05 — Understanding the dollar dominance
15:00 — Brent demand drops and takes the crude price with it
14:10 — Can Russia's oil supply be replaced?
18:59 — Brent at US$200 per barrel is possible
21:26 — Key takeaway: Higher oil prices may lift gold 
23:32 — Aussie dollar short covering