Gold as First Step on Property Ladder
Precious Metals Commentary (week ending 5th July 2019)
ABC Bullion's trading volumes this week were the highest they have been all year on the back of a strong gold move from USD$1,384 to sit currently at $1,422. Silver was in a much tighter range this week, currently at a low $15.32. This week we look at: 
housing prices in terms of 400oz gold bars
debt sinkhole limits to central bank monetary manipulations
revised analyst gold price forecasts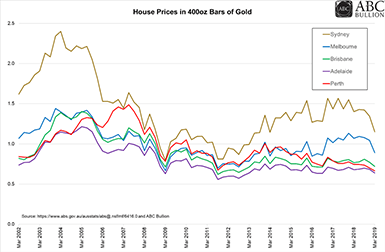 Read the full report by ABC Bullion's John Feeney and Bron Suchecki here.