Fed and ECB policies diverge – can the system handle a shock from a highly valued US dollar?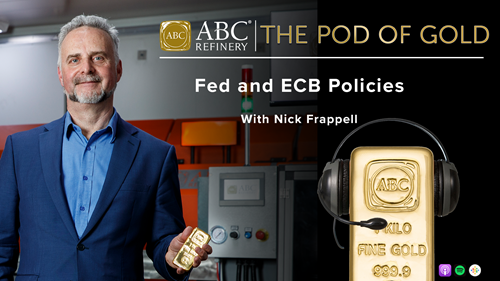 In this episode of The Pod of Gold, Nick Frappell and Shae Russell discuss the impact dollar strength is having on gold and the increasing yield gap between the US dollar and major currencies. Finally, we ask, is there scope in the system for a shock from a highly valued US dollar? 
Time Stamps:
41 – Gold longs aren't strong, but shorts aren't convinced
3:35 – Point n Figure suggested in April gold would fall to US$1,738
6:40 – Gold looked like an outlier compared to inflation linked bonds
8:22 – Divergent central bank polices increase the yield gap
12:06 – Silver moves with copper but retail demand for silver is strong
17:49 – Fed aim to suppress inflation
18:61 – Lower growth environment likely to be supportive for gold
20:11 – Expectations for a recession have sharply increased
23:26 – Option strikes may push gold to US$1,700
24:12 – Euro and US dollar at parity, temporary or a the new normal?
27:45 – RBA risk significant pain if they lift rates too high
31:49 – Aussie dollar falling as export slow, likely to go lower
32:29 – Key takeaway
Click here to listen now.