ABC Bullion Appointed Presenting Partner for Tutankhamun: Treasures of the Golden Pharaoh in Australia
Blockbuster Exhibition Set to Debut at Sydney's Australian Museum in 2021
ABC Bullion announces it has been appointed Presenting Partner for the Australian engagement of Tutankhamun: Treasures of the Golden Pharaoh – the largest exhibition of Tutankhamun's treasures ever to leave Egypt – coming to Sydney's Australian Museum in 2021.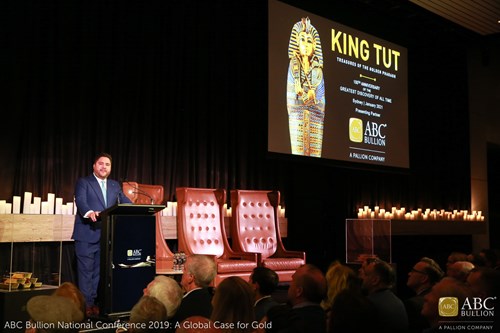 Andrew Cochineas, Chief Executive Officer of ABC Bullion's parent company Pallion, announced the partnership today.
"Sydney will be the fifth destination on a 10-city world tour to mark the centenary of the discovery of Tutankhamun's tomb in 1922 by British archaeologist Howard Carter.  Millions have flocked to the world tour, and people from all over the world are expected to attend the exhibition's exclusive South East Asia engagement, as the first blockbuster exhibition to be held in the Australian Museum after its $57.5M refurbishment and expansion," Mr.  Cochineas said.
A partnership between ABC Bullion, global sports, fashion, events and media leader IMG and Destination NSW presented in conjunction with the Egyptian Ministry of Antiquities, the exhibition will be the last time these objects will travel outside Egypt now that the new Grand Egyptian Museum in Giza is nearing completion.
Mr. Cochineas added: "We are thrilled to be Presenting Partner of the Tutankhamun: Treasures of the Golden Pharaoh exhibition and to provide Australians with access to the golden wonders of ancient Egypt.  Only nine other cities in the world will have this once in a lifetime honour."
Commenting on ABC Bullion's appointment as the exhibition's Presenting Partner for the Australia engagement, IMG Senior Vice President & Managing Director, Australia & New Zealand Christopher Gilbert said: "We are thrilled to have ABC Bullion's support for this monumental event, and we look forward to bringing King Tut's treasures to Australia."
Tutankhamun: Treasures of the Golden Pharaoh will feature more than 150 objects from King Tut's tomb, including 60 treasures never previously displayed outside Egypt before this tour.  The exhibition features advanced display technology and the latest science about King Tut's life, health, death and lineage.  And, for the first time globally, the exhibition will also include a detailed display dedicated to the world's most coveted metal – gold, presented by ABC Bullion.
Mr Cochineas added: "Australia is the second largest gold producer in the world.  This exhibition shows that Gold has always been an important part of world civilisation.  It was in ancient Egypt and it is today in modern Australia.  And with gold prices and demand at record highs, it seems that the lustre of gold shows no signs of decline."
The Tutankhamun exhibition will begin its six-month run at the Australian Museum in early 2021.  The Sydney stop follows record-setting runs in Los Angeles and Paris.  In Los Angeles, the exhibition was among the most successful in the history of the California Science Center, while in Paris it has continued to sell out far in advance, with more than one million visitors to date.